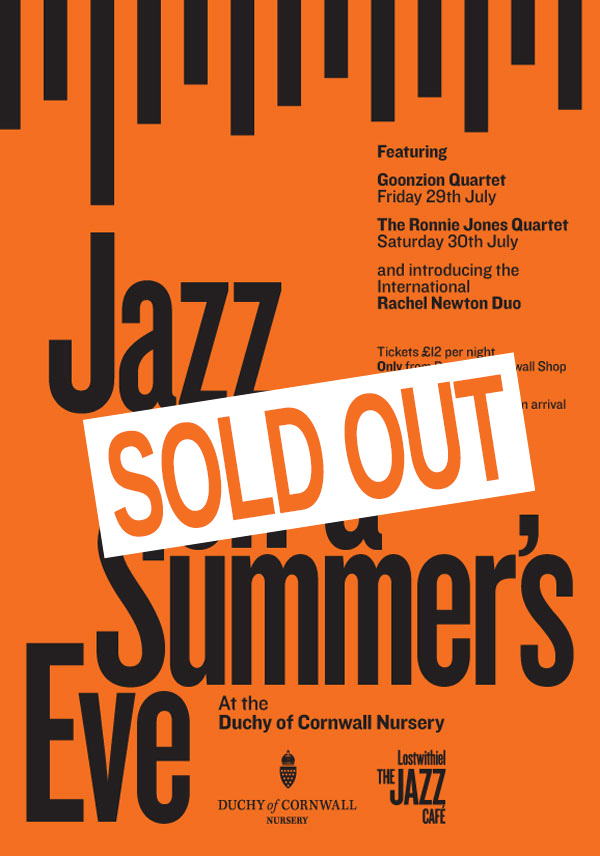 Jazz on a Summer's Eve - SOLD OUT
Lostwithiel Jazz Café were honoured and excited to be invited to co-host this first ever gig at the Duchy of Cornwall Nursery. This is not only a feather in our cap but a realisation that live quality music, no matter what genre, is now being recognised and exists outside the recorded medium.
We are excited to be hosting two nights of quality Jazz from three exciting bands. With just 50 tickets available per night this really will be the hottest ticket in town. Take a look at our previous gigs to see all sorts of information about your local Jazz Café performing somewhere near you, for you, about 5 times a year.
The Rachel Newton Duo
On key boards and vocals Rachel Newton, performing on Friday and Saturday nights returns from gigging in New Zealand to perform with her percussionist at Duchy of Cornwall Nursery.
A regular at both LostFest and Jazz Café over the last three years Rachel has developed a stunning set of standards played in her own inimitable way featuring songs by Van Morrison, Nina Simone and Billy Holiday among others. We look forward to the cool and vibrant style of Rachel's performances.
Goonzion Quartet
Appearing on Friday night, performed at Lostwithiel Jazz Café a couple of years ago and having stunned the audience with among others feature early Miles Davis, Bill Evans and Wayne Shorter songs at Lostwithiel Jazz Café. With a rehearsal and recording studio on Bodmin Moor, St Neots way, they cut the mustard with authentic renditions from the golden age of modern Jazz.
The Ronnie Jones Quartet

Performing on Saturday night, The Ronnie Jones quartet are based in South Devon and are fresh to Lostwithiel Jazz Café, having entertained at both the Ealing and Cheltenham Jazz Festivals. We look forward to their smooth style and just the ticket for a summer's eve of wonderful live music at Duchy of Cornwall Nursery.
www.ronniejonesquartet.co.uk
Join the mailing list