Indigo Spring
April 21st and 22nd
'The Jazz side of Blues and the Blues side of Jazz'
April 21 and 22, 2017 will be marked in the minds of a good 100 lucky ticket holders at the Duchy of Cornwall Nursery I am sure. Both The Jeff Horsey and Gareth Hedges Duo and The Michelle Saacks Trio were just what Indigo Spring had in mind. The sap is rising outside in the beautiful Duchy Nursery and so it was indoors in this wonderful venue of the Nursery Café.
Great Blues, great Tapas, good wine and local beers, served by ever smiling waiting staff, tell me what more would you need for a sublime weekend.
A big surprise occurred at the Saturday session with the introduction of the diminutive figure of Ilias Michael Walker, an 11 year old, Lostwithiel resident, self-taught guitar player and songsmith who despite his age and experience stole the show during the intermission with songs by Ed Shearon and his own work. Resounding applause rendered him speechless at the conclusion, some had to wipe away a tear!
All profits from Jazz Café are donated to local good causes and we are grateful to our very professional volunteers without them Jazz Café would just not happen.
As always we strongly suggest, that in order to avoid disappointment we advise you to purchase tickets as soon as they become available because we always sell out.
The following are comments made by the audiences at INDIGO SPRING at The Duchy of Cornwall Nursery on both Friday April 21st and Saturday April 22nd.

"What a cracking couple of nights"

"That was the best night I have had for a long time"

"Where do you book all these wonderful musicians from"

"Those two (Jeff Horsey and Gareth Hedges) were just great"

"That trumpeter just blew me away "

"Michelle masters the keyboard like no one else, those cords"

"When is the next gig, can a buy a ticket now?"

"Thank you for two nights of great entertainment"

"This is just wonderful, and here, right on our doorstep"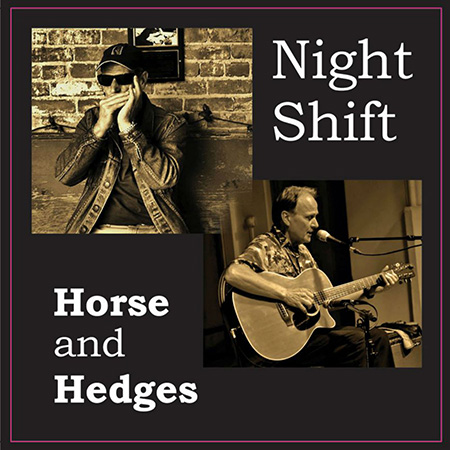 Horse and Hedges

Michelle Saacks Trio
All profits generated by Lostwithiel Jazz Café are donated to local good causes such as The Mayors Fund, Joe, Lostwithiel Town Street Sweeper, Cornwall Hospice Care, Cornwall Scrapstore, The Community Centre, Lostwithiel Museum and so on.
'It's a marvelous night for a moon dance'