Previous Jazz Cafe gigs

Jazz Cafe Back to the Blues - 29th January 2016 - SOLD OUT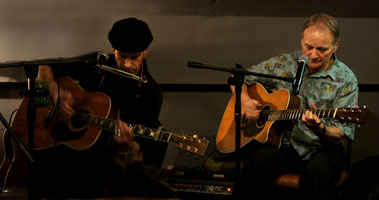 Another stonking sell out night, kicking off with Mike Hawkey walking the bar with his solo saxophone followed by a 78 wind up gramophone playing a 1938 edition of Bessie Smith. The audience were then entertained by The Alley Cats and finally Jeff "The Horse" Horsey and Gareth Hedges. Picture courtesy of and copyright Pete Ellis
Read more about Jazz Cafe Back to the Blues
Jazz Cafe does Gypsy Jazz - 9th August 2015 - SOLD OUT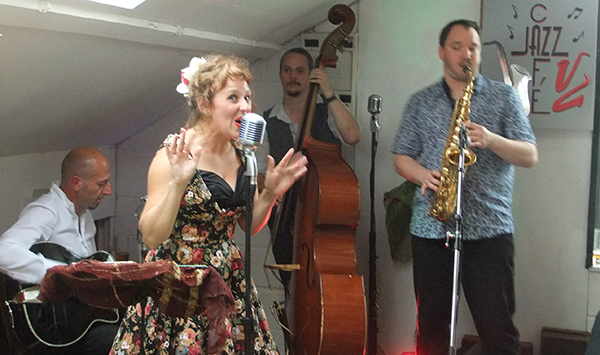 'Swingology' a four piece of slap bass, two vamping acoustic guitars in a Django manner and a hot clarinet kicked off the afternoon with some lively and energetic renditions of some older standards from the French school of the 50's perhaps from the left bank no less, as well as newer compositions from closer to home with each piece receiving high spirited applause from an enthusiastic and knowledgeable audience, whistles, shouts, "a whooping and a hollering" no less.
After a short intermission, where raffle ticket number one, no less, was drawn to win an expensive bottle of Champagne, we were off into another exciting set from 'Some Like it Hot' fronted by Molly 'the Mooch'. An effervescent songstress with enough stage presence and charisma to fill a Double Bass and its case.
Read more about Jazz Cafe does Gypsy Jazz
Jazz Cafe at LostFest 2015
Celebrating our 1st Birthday. Jazz Café at Lostfest 2015 for whoever attended and you attended in your hundreds, was a souring success even more so than our outstanding success last year.
We could not have asked for better weather, better beer, better volunteers, better musicians or better food.
Read more about Jazz Cafe at LostFest 2015
Jazz Cafe - Does The Blue - 27th February 2015 - SOLD OUT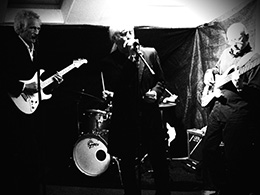 To a packed and sold out Rafters Bar full of anticipation Jeff THE HORSE Horsey worked the magic of Delta Blues to a thirsty audience. His slide guitar, harmonica and vocals sang out from his one room country little shack on Bodmin Moor with home spun songs and well-chosen Blues Classics.
Representing Delta and Mississippi Blues to a thrilled and well briefed audience. Two sets are better than one and the audience would not let him go at the end but they had to because more was to come in the name of Nuclear Blues representing not only St Ives but also Chicago and all roads north and East to New York, Manchester, Liverpool, Ealing Jazz and Blues Club, West London and then west again to Lostwithiel.
Read more about Jazz Cafe Does The Blue
Picture courtesy Keith Seume
Jazz Cafe - Into The Blue - 14th November 2014 - SOLD OUT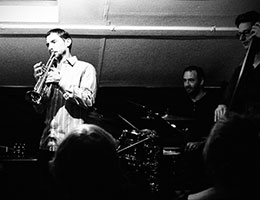 Friday the 14th of November 2014 could become known as "that gig".
Both our bands, Pocket Groove and Goonzion Quartet stunned the audience by sheer musical brilliance, fielding rapturous applause after each rendition of both standards and new material alike, we are so lucky to host such talent here in Cornwall and should never take it for granted.
We knew we had 'made it' when we received an email asking us to reserve a ticket or two from Melbourne, South Australia in order to avoid the disappointment of being sold out which indeed we eventually were. We also heard an ex councillor mention that Jazz Café is turning Lostwithiel into a "happening place"!!!! Wow...
Read more about Jazz Cafe Into The Blue
Picture courtesy Keith Seume
Jazz Cafe does Sunday Lunch - 7th September 2014 - SOLD OUT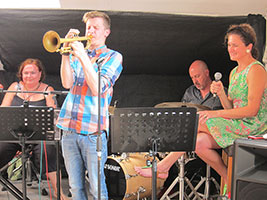 Someone said that we have 'set our bar rather high' in that the overwhelming success of another Jazz Café held on Sunday afternoon the 7th of September at Lostwithiel Community Centre will be a very hard act to follow.
An overriding and self-imposed principal of Jazz Café is that we will always book students to give them a chance to perform in public and that we will never allow the use of pre-recorded music. It is our belief that music should be enjoyed in its live format.
For those fortunate to have had a ticket for this 'sold out' performance it was a sublime afternoon of handpicked great musicians and performances...
Read more about Jazz Cafe does Sunday Lunch
LostFest - 11th May 2014
Relax in a soft armchair on a Sunday afternoon and enjoy live jazz played by some of Cornwall's finest - all for FREE.
Lostwithiel Community Centre hosted a keenly awaited and exciting addition to LostFest in 2014 - a Jazz Cafe with a variety of musicians performing in the upstairs bar from 10.30am to 6.30pm.