Jazz in the Deep Mid Winter
20th and 21st January 2017
It was two years ago in 2015, a bright summers day, we first booked Swingology and Some Like it Hot to perform at Rafters Bar and then after a superb couple of sets we promised that at the appropriate time we would invite them back.
We kept our promise, but this time the venue was the Duchy of Cornwall Nursery Café, it was over two nights and of course it was again a two night sell out.
At the end of each gig we didn't experience full bodied applause as you would expect. We witnessed something quit unique, we heard a ROAR of approval from a fully engaged and excited audience.
Spontaneous hand clapping along with delightful rhythms of old and not so old songs, well remembered for class and romance and all put together with understated style and talent.
Molly was in stunning form with provocative moves, shadowing interpretations of songs we all love and remember and with high voltage instrumental accompaniment and it's all home grown talent right here in Cornwall. Look no further, it's here, it's live and it's real, right on our doorstep.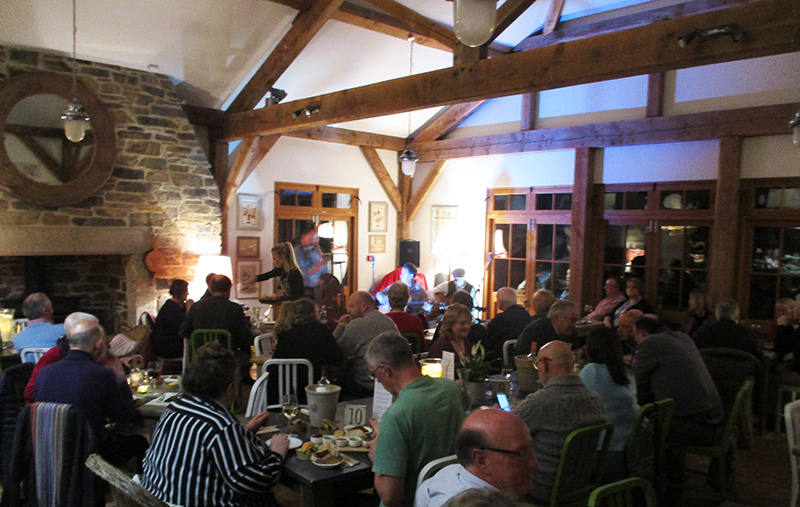 This report would not be complete without full regard to Karl and his wonderful staff at the Duchy Café. This is a music venue to die for and we are so lucky to have such a warm and friendly relationship with them. Thanks Karl. Great Tapas.
As is always our intention, after paying for the bands and out of pocket expenses we have so far donated to this year Cornwall Hospice Care, The Mayors Fund, Jo the Lostwithiel Street Sweeper, Cornwall Scrapstore, LostFest and the New Year's Eve Giants with more to report as and when. Watch this space.
Overheard on the night:
Where do they come from, it can't be Cornwall
They are fantastic.
How do you book bands like this?
When is the next gig?
How come you use the Duchy Café?
This is the best Garden Centre I have ever been to.
Great Tapas.
Very professional staff, great waitresses.
Put me on your email list right now, I want more of the same.
We come from Bushey in Hertfordshire are on holiday in Padstow, we are so lucky to see what you Cornish get up to in the Winter, I'm real envious.
Join the mailing list