Jazz Cafe does Gypsy Jazz, August 9, 2015
It is with pleasure that I get to write up the aftermath of the Gypsy Jazz session at Rafters Bar on August 9.
Yet another sell out at Lostwithiel Jazz Café!!!!!!
'Swingology' a four piece of slap bass, two vamping acoustic guitars in a Django manner and a hot clarinet kicked off the afternoon with some lively and energetic renditions of some older standards from the French school of the 50's perhaps from the left bank no less, as well as newer compositions from closer to home with each piece receiving high spirited applause from an enthusiastic and knowledgeable audience, whistles, shouts, "a whooping and a hollering" no less.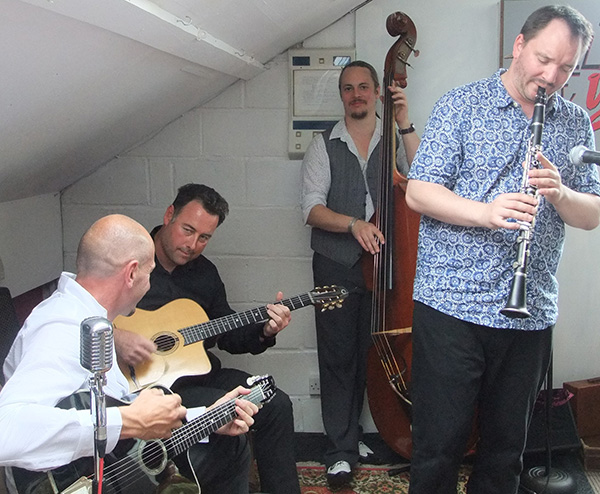 After a short intermission, where raffle ticket number one, no less, was drawn to win an expensive bottle of Champagne, we were off into another exciting set from 'Some Like it Hot' fronted by Molly 'the Mooch'. An effervescent songstress with enough stage presence and charisma to fill a Double Bass and its case.
What a joy to enjoy someone who can SING for a change rather than the rather strangled approach that seems to be the idiom right now. We learnt in passing that Molly is a past student of the famous Hub Theatre School and her command of the song and the stage was evident and a pleasure, this was born out by again rapturous applause after each song as they intertwined between guitar, saxophone and that slap bass again. At the finale with encore many stood to applaud.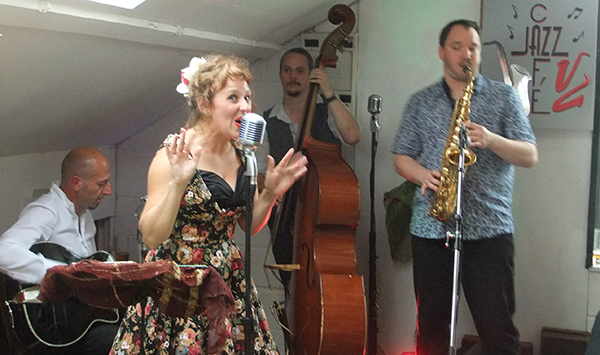 Lostwithiel Jazz Café does it again. Both bands tell us that it is a pleasure to perform in front of such an enthusiastic audience and in such atmospheric surroundings, with such good acoustics and are keen to come back again.
Critiques and compliments
Yes please keep me posted. I appreciate the inspired effort that you and others are making to bring jazz to Lostwithiel. David
I'd just like to say a HUGE thank you to you for organising today. Both bands really enjoyed themselves and hopefully the audience did too! Thank you all again. Kimberley
Just to say thanks again for a ripping afternoon in such welcoming and jolly company, in a nice venue and with really world class local artists performing so enjoyably. Robin
This is just to thank you for a wonderful afternoon of superb music done in a tasteful way with empathy for the musicians and what a wonderful atmospheric place Rafters Bar is. Thanks again, Heather and Will.