Jazz Cafe does Sunday Lunch - 7th September 2014, 12 noon - 4pm
Someone said that we have 'set our bar rather high' in that the overwhelming success of another Jazz Café held on Sunday afternoon the 7th of September at Lostwithiel Community Centre will be a very hard act to follow.
An overriding and self-imposed principal of Jazz Café is that we will always book students to give them a chance to perform in public and that we will never allow the use of pre-recorded music. It is our belief that music should be enjoyed in its live format.
For those fortunate to have had a ticket for this 'sold out' performance it was a sublime afternoon of handpicked great musicians and performances.
Sunday lunch sponsored by Transition Lostwithiel was a delicious menu of Tapas and Meze and enjoyed by everyone, including seconds and thirds!!
Carlton Crouch on solo tenor saxophone is fast becoming an established member of the Jazz Café story with resounding applause from a knowledgeable audience. As was another spell binding set from local jazz students Rachel and Fitz on keyboards and trumpet. It is hard to believe that these guys are still students and still learning their trade.
DemiMonde followed with two sets of beautiful jazz arrangements of some standards by Al Dente, on drums, Debbie Andrews on vocals and the fabulous Michelle Saaks on keyboards and vocals. Later into the second set they were joined by Nathan (Fitz) Fitzgerald on trumpet on a couple of bluesy numbers which took the already highly charged atmosphere to a whole new level.
Her worship councillor Mrs Pam Jarrett Mayor of Lostwithiel arrived and made a very interesting and informed point in a few words having first drawn the raffle of a rather good bottle of Camel Valley bubbly, Pam chose to highlight the fact that Lostwithiel can boast of choirs, silver bands, folk club, folk performances, music appreciation club, madrigal singers, rock bands and now in its second outing a very popular Jazz Café adding to this rich seam of musical entertainment that Lostwithiel has to offer.
The same format of Carlton Crouch, Rachel and Fitz and DemiMonde can be seen again on October 11th at Bedruthan Hotel between 12.00 noon and 4.00pm, so if you missed this afternoons entertainment then pitch up in Mawgan Porth for the second instalment.
Following photos by kind permission of Luci Isaacson, Climate Vision... turning environmental problems into enterprising solutions.
To those who were lucky enough to have attended Jazz Cafe we would be very grateful if you could pass on your thoughts, (positive ones of course) to your friends, neighbours and relatives as this is by far the best form of advertising and spreading the word.
Have no fear we are already looking at the next event which should be sometime during the winter.
Lastly we must thanks Transition Lostwithiel for their continued support and sponsorship of the last two Jazz Cafes.
Musicians
DemiMonde
"TOE TAPPING, ELEGANT JAZZ THAT WILL LEAVE YOU WANTING MORE!"
Gifted Pianist and Musical Director, Michelle Saacks, has returned to England after years of being based in New York City, performing in the US and Europe while developing her own exuberant style incorporating Jazz, Brazilian, Latin, Soul, Blues and Funk. Her sound can be traced back through the pantheon of music legends she worked and toured with on arriving in New York across myriad genres including R&B: Gwen Guthrie, Latin: Yomo Toro, DooWop: The Inkspots, Motown: The Marvelettes, Soul: Ben E. King, Rock: Velvet Undergrounders John Cale, Mo Tucker and Sterling Morrison and Jazz: Herbie Hancock to name a few. Michelle has honed her art to a level where she is free to express with energy her passion for all things musical and loves the communication of live performance.
The cool, natural vocals of local artist Debbie Kemp, compliment Michelle's energetic and often animated musical interpretation, creating funky, swinging grooves, tongue in cheek witty improvisations and heart wrenching ballads. The pair are joined on this outing by the inimitable Al Dente on Drums, Al has played most styles of music all over the world, from Munich to Miami, South Africa to Hong Kong! With experience in Soul and Funk and a rapidly expanding repertoire of Jazz and Brazilian styles, he keeps things funky and cool.
"DEMI ROMP THROUGH A GLORIOUS SELECTION OF JAZZ, BOSSANOVA, LATIN AND BLUES WITH PASSION, PANACHE AND PURE JOY AND BOY CAN THEY SWING!"
Rachel Newton and Nathan Fitzgerald (Rachel and Fitz)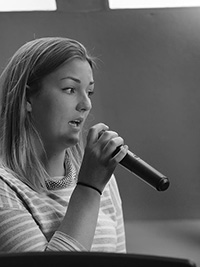 "As young people, it is great to have live music events close to home and this can be rather difficult in Cornwall, especially Jazz!
LostFest Jazz Cafe was fantastically organise. Everyone there and everybody who watched was extremely kind and open and there was a fantastic variety.
A great start into bringing some more Live Jazz into Cornwall."
Photos by kind permission of Andy Bilewycz.
Carlton Crouch
Local, multi-instrumentalist and composer Carlton Crouch performs a stripped down set of jazz standards. "The idea is to try to recreate some of the spirit and ideas of 1950's West Coast (America) jazz on solo saxophone" says Carlton. "Other saxophone projects at the moment include playing and partially arranging Cornish music with the Scoot Liskerrys Band and developing a two hour set of Cornish tunes as a kind of saxophone installation".
Carlton Crouch will be playing in the bar on Tenor saxophone from 12.00 noon to 12.30pm as you arrive.