Donations
All profits after expenses are donated to local good causes.
Man Engine postcards
MAN ENGINE postcards sponsored by Lostwithiel Jazz café and donated to a range of organisations in Lostwithiel for sale to raise funds for their individual good causes.
All postcards now distributed to: The Museum, Lost in Song Choir, The Community Centre, St Bartholomew's Church, Lostwithiel Book Group and Homefront Coffee and Haberdashery shop. All raising funds for good causes in and around Lostwithiel and all for sale at £1 each.
Other donations in no particular order:-
Sing along the River
Cornwall Hospice Care
Breast Cancer UK
Macmillan Cancer Support
FLEET
Lostwithiel Community Centre
Lostwithiel Business Group
Transition Lostwithiel
Cornwall Scrapstore
Lostwithiel Annual Gardeners Market
The Mayors Fund X 3
Lostwithiel Junior Silver Band
Lostwithiel Museum
Lostwithiel Town Street Sweeper
Lerryn Memorial Hall
Lerryn LAMA Community Bus
The 'Boogie Bench' half way up Bodmin Hill
Various planters around town.
Boogie Bench on Bodmin Hill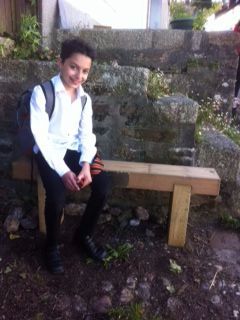 Enjoying the Boogie Bench: on the left, 10-year-old Ilias Michael Walker who played at a
Jazz Cafe at Duchy of Cornwall Nursery earlier in 2017, and on the right Richard Bower.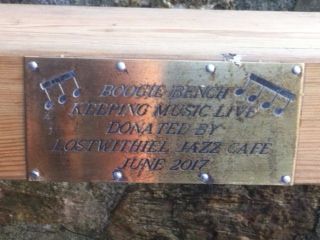 The plaque on the Boogie Bench