Critiques and Compliments
If you would like to make (printable) comments please use the contact form.
"What a fabulous night! Thankyou for putting on such great music and musicians, good banter too! We didn't know what to expect, being newbies, (and very late last ones due to my lack of planning!) in my defence we are used to going out to jazz nights rather later than 7pm!!
Ollie (wow what a talented young lad he is) and his equally talented mate (missed his name) were superb. Ronnie and Martin, Joss and Jim excellent, such a tight quartet.. never seen a drummer like it!
We look forward to coming again, as whilst we don't mind the odd shanty, jazz is our thing.
Great to meet you also and bravo for getting/ keeping going this fabulous jazz cafe"
Cornwall Today November 2017 edition
Full page spread in November 2017's edition of Cornwall Today about Lostwithiel Jazz Cafe!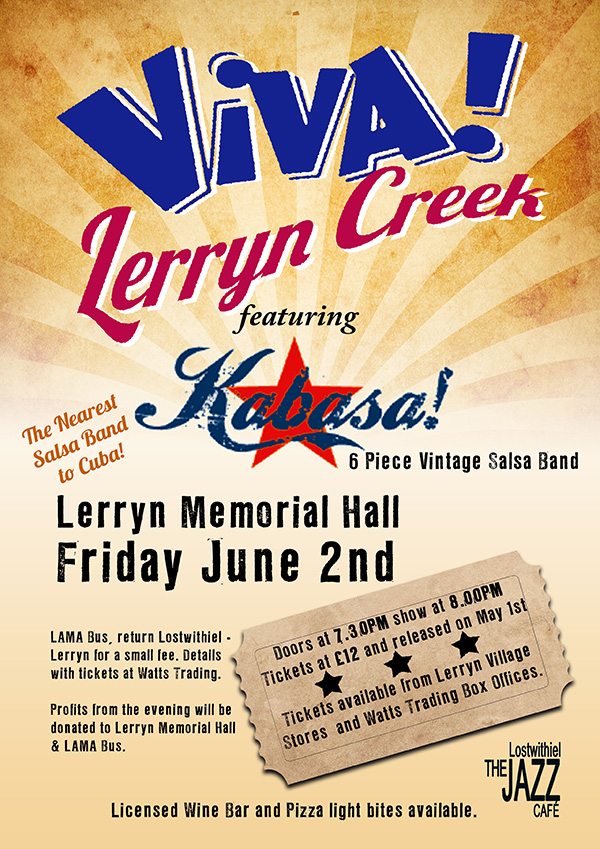 "What a wonderful night"
"Please don't stop putting on Jazz Café"
"When's the next one"
"This room is just right for Jazz Café."
"Where did you find KABASA!"
"And all this for just £12"
"Far out"
"I guess it's back to The Duchy for the next gig then"
"What no beer"
And the winner of the photography competition is... John Pegg.
See all photos and video plus a write up about the gig.
The following are comments made by the audiences at INDIGO SPRING at The Duchy of Cornwall Nursery on both Friday April 21st and Saturday April 22nd.
"What a cracking couple of nights"

"That was the best night I have had for a long time"

"Where do you book all these wonderful musicians from"

"Those two (Jeff Horsey and Gareth Hedges) were just great"

"That trumpeter just blew me away "

"Michelle masters the keyboard like no one else, those cords"

"When is the next gig, can a buy a ticket now?"

"Thank you for two nights of great entertainment"

"This is just wonderful, and here, right on our doorstep"
A few lovely comments made by happy punters at the Jazz in the Deep Mid Winter gig. Thanks for all your kind words.
Referring to Swingology and Some Like it Hot and the venue, Duchy of Cornwall Nursery:
Where do they come from, it can't be Cornwall
They are fantastic.
How do you book bands like this?
When is the next gig?
How come you use the Duchy Café?
This is the best Garden Centre I have ever been to.
Great Tapas.
Very professional staff, great waitresses.
Put me on your email list right now, I want more of the same.
We come from Bushey in Hertfordshire are on holiday in Padstow, we are so lucky to see what you Cornish get up to in the Winter, I'm real envious.
Fantastic evening, wonderful music and a super ambience.
Congratulations Richard + team.
We sure are lucky to attend such a great event. Keep up the good work,
Ron Hooper
The gig was one of the best we've had since I formed the band nearly 5 years ago.
It was a huge pleasure to play for such a lovely, generous and appreciative crowd.
Ronnie Jones, Ronnie Jones Quartet
The Jazz Café tonight was a triumph-brilliant atmosphere, lovely little special touches, fantastic music and excellent films. Count on us for the next one
Just wanted to say we all had a brilliant time last night, 'twas a real blinder, and that's such a nice venue when set up like you had it last night. Thank you.
Amazing waiters.
Thanks again for last night, such a great evening.
It was indeed a great success last night. Thanks for all the work you put in to a very unique and special experience for everyone.
Absolute pleasure
Amazing evening
Such a success.
Thank you.
It was a fabulous night - I loved it.
Yes please keep me posted. I appreciate the inspired effort that you and others are making to bring jazz to Lostwithiel. David
I'd just like to say a HUGE thank you to you for organising today. Both bands really enjoyed themselves and hopefully the audience did too! Thank you all again. Kimberley
Just to say thanks again for a ripping afternoon in such welcoming and jolly company, in a nice venue and with really world class local artists performing so enjoyably. Robin
This is just to thank you for a wonderful afternoon of superb music done in a tasteful way with empathy for the musicians and what a wonderful atmospheric place Rafters Bar is. Thanks again, Heather and Will.
The Influence which the first ever Jazz café at Lostfest2014 had
How good to hear all that's going on in Lostwithiel - it suddenly struck me while I was reading it that a couple of years ago I spent a happy Sunday being MC at a Jazz Café - at one point I went 'off on one' about the future of the Cornwall Music Service - the response was brilliant and those from the Music Service who were supporting the young Jazzers that day took heart -
I'm glad to say that the Service has not only survived but, with the support of Truro School and the collective leadership of its teachers, is flourishing - which all bodes well for the future of music - one in the eye for 'Austerity and The Philistines'!
Best wishes
C Clr Bert Biscoe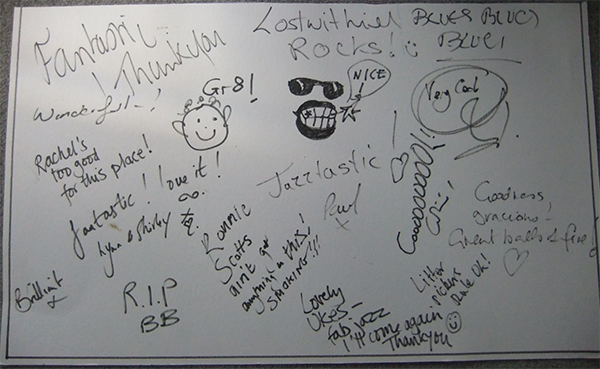 Unsolicited remarks and comments from the general public at LostFest 2015.
A pome penned by Cllr Bert Bisco after the LostFest 2014 Jazz Café.
How did it occur that coincidence?
And a little forward plan, led
To a Sabbath crammed with jazz – long
Grey-on-blue solos jived the afternoon:
The double bass lay prone –
An emperor graped and wined –
As a pined and solemn saxophone
Shook old castle's stone – whoever
Told the ringer to toll his major bell
To carry 'All clear' to sailors, 'All Well'
To the jive? Sleeve notes found pretence
To curdle cadaverous spines –
The bar sold out, and only crepes to dispense
As Stormy Monday and St Louis Blues
Filled and formed these lost and new-found hills –
And somewhere in the cloud
A late storm-driven seedsman drives
And hopes in twelve-bar prayer his drills
Will spill sweet roots and brassica
From winter boards and plenty will fill
The bellies of cool and jazz-drawn hordes.
B