Lostwithiel Jazz Café - Into The Blue - SOLD OUT, AGAIN.
DO SOMETHING ON A FRIDAY NIGHT AND THE WEEKEND SEEMS SO MUCH LONGER
Friday the 14th of November 2014 could become known as "that gig".
Both our bands, Pocket Groove and Goonzion Quartet stunned the audience by sheer musical brilliance, fielding rapturous applause after each rendition of both standards and new material alike, we are so lucky to host such talent here in Cornwall and should never take it for granted.
We knew we had 'made it' when we received an email asking us to reserve a ticket or two from Melbourne, South Australia in order to avoid the disappointment of being sold out which indeed we eventually were. We also heard an ex councillor mention that Jazz Café is turning Lostwithiel into a "happening place"!!!! Wow.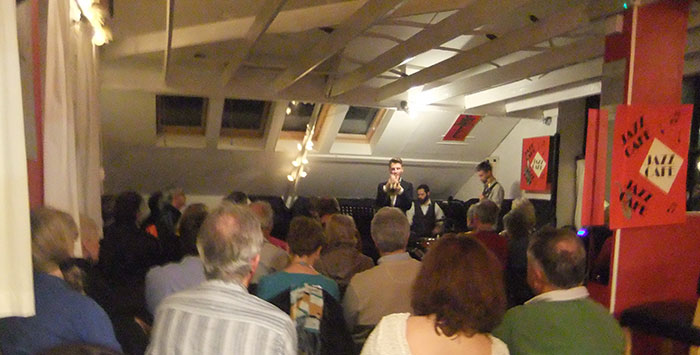 If you had a good time at Jazz Café please talk to your friends, neighbours and relatives about it, personal endorsement is by far the best form of advertising and it's very cheap.
By removing the old settees from Rafters Bar we were able seat a lot more than we were able to before and this we think added to the comfort of ticket holders and made for an even better atmosphere all round.
A big big thank you to our volunteer team of Maggie Robshaw on the door, Anne Taylor behind the bar, Jerry Quail resident roadie, Jane Stanley on the raffle and Lesley Bower propping up the bar, and of course Sal and Rich and Sal's sister, super-efficient resident bar staff.
A special thank you to Her Worship Councillor Mrs Pam Jarratt Mayor of Lostwithiel for drawing the raffle which was kindly donated by Bedruthan Hotel, being a romantic Three course Dinner for Two including a Bottle of House Wine and Coffee, worth we understand in the region of £80 !!!.And for making some special and encouraging comments and observations.
Pocket Groove
Pocket Groove were are storming success at Lostfest and now return to give us further evidence that they are the rising stars of the Cornish Jazz scene.
All photos courtesy and copyright of Keith Seume.
Goonzion Quartet
New to Jazz Café, Goonzion Quartet, a collective of talented and local musicians who wish to bring their renditions of standards by such as Miles Davis, Arty Shaw and Bill Evans to a wider and appreciative audience.
All photos courtesy and copyright of Keith Seume.