JAZZ CAFÉ AT LOSTFEST 2015 SUNDAY MAY 17th
CELEBRATING OUR 1st BIRTHDAY
Jazz Café at Lostfest 2015 for whoever attended and you attended in your hundreds, was a souring success even more so than our outstanding success last year.
We could not have asked for better weather, better beer, better volunteers, better musicians or better food.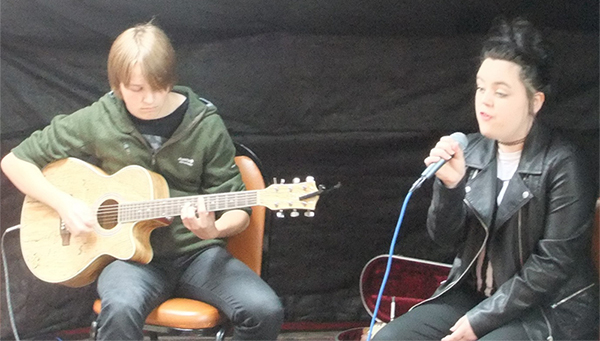 Jazz Summers and Jess Tucker kicked the afternoon off with a stylish set of songs and acoustic guitar. A voice with range and power and deft fingering on the frets, these two if they stick to it could go all the way and don't forget you saw them here at Lostwithiel Jazz Café for their first ever gig. Watch this space, they were wonderful.
Next on were our very own Lost-E-Ukes Band, some 9 nine strong and ambassadors of Lostwithiel U3A. Songs old and not so old entertained to the point of a rich encore. Under the tutorship of Pete Ellis (on ukulele, vocals, mini banjo and kazoo) of Acoustic Sessions fame here at Rafters Bar every third Wednesday evening. They entertained in that familiar way that only song and strings can achieve. Thanks guys I loved the Hawaiian South Sea Island shirts. We were away in Polynesia for a while.
Susie Charles and Tony Taylor saw a unique paring of Student and tutor on acoustic guitars and what was so important here was that Jazz Café are very keen to provide that essential live stage experience for youngsters to perform, and on the this occasion for the first time to a discerning audience with pieces for Haydn, Mozart and someone else I didn't catch the name. Duetting at its best, playing off each other at will, it was a joy to watch and hear. Again remember the name of Susie Charles for future reference.
For the second year running Rachel Newton and friend entertained us with some scintillating renditions of standards such as Autumn Leaves and Moondance as an encore with Rachel on keyboards, guitar and vocals and friend (I didn't catch his name! but what a drummer) on just a snare and high hat cymbal. Please someone tell me his name or is he the phantom drummer who just turns up plays and disappears , tell me please. It cannot be long before we see Rachel on Later with Jools Holland on BBC2,make a record or two Rachel and you will be away and flying.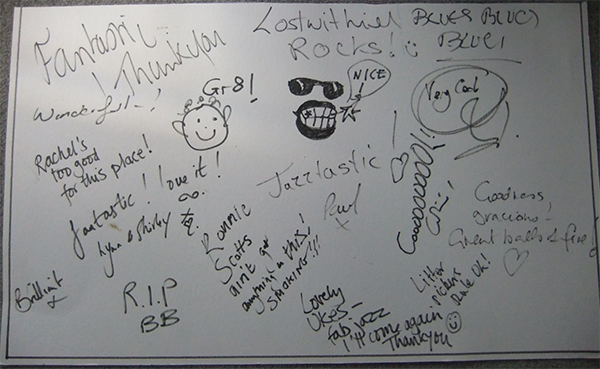 The Graffiti board with unsolicited remarks and comments from the general public.

JAZZ CAFÉ GRAND AUCTION
Norman Trebilcock MBE, Olympic flame carrier, ( through Bugle ) and recently returned from his 20th completion of the London Marathon made a short speech as an introduction explaining what and where funds were spent by FLEET the rapid response charity. Our grand auction with Her Worship Clr Mrs Pam Jarrett Mayor of Lostwithiel acting as our celebrity auctioneer raised a staggering £300. Bucket rattling secured a further £159, generously donated by the Jazz Café audience, so our total was in the region of £470.Credit must go to Maggie Robshaw for securing such interesting and donated lots to bid for. All proceeds go to FLEET the rapid response emergency service equipment provider charity.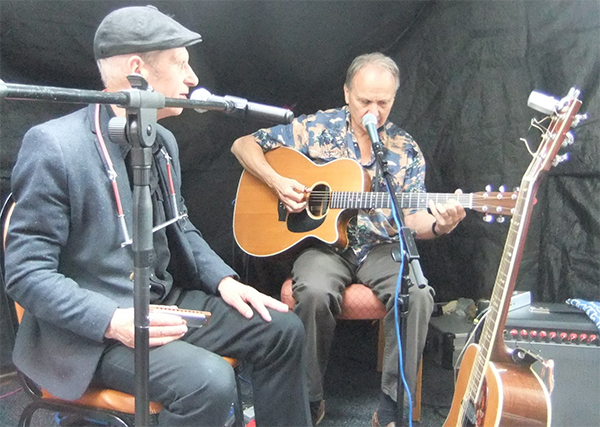 Then followed a new era of Lostwithiel folk law and history in the name of Jeff The Horse Horsey and Gareth Hedges, Jeff on slide guitar, acoustic guitar, harmonica and vocals and Gareth on guitar and vocals,two Blues Men through and through. For nigh on an hour they stormed the audience in Rafters Bar with renditions of many blues classics but of course left plenty of time to fully appreciate BB King who's sad parting had only occurred a couple of days before, in fact Jazz Café management made it a point that only songs by BB King would be played over the PA between all the afternoons performers. This met with full audience approval. What a set.
Before Jeff and Gareth came back for their final set we were entranced by, once again Goonzion Quartet who many will remember we focussed on back in the bleak mid-winter. Goonzion (it's a downs near St Neots!) play beautiful music mostly from the mid-50, s with titles scored by Bill Evans, Miles Davis and the like. Comprising drums, a wonderfully muted electric guitar, trumpet and stand up double base, there's is a rare and masterful sound, hard to repeat anywhere else in Cornwall I would hazard. We are proud once again to have seen their very first performance here at Jazz Café a while ago and were especially pleased to invite them back again. Goonzion are always welcome here in Lostwithiel.
A big big thank you to all our superb volunteer crew of Gerry, Jane, Anne, Lesley, Joan, Maggie, Carol, Rowan and Judy. Here are 2 of them photo courtesy of John Peck
And a big thank you to Duchy Timber, The Carpet Gallery, Transition Lostwithiel and Haye Farm Cider for all their sponsorship and the help and support of Lostwithiel Community Centre management committee, staff and volunteers.
Sponsored by Lostwithiel Community Centre, Transition Lostwithiel and Haye Farm Cider.
B B King: 16/9/1925 - 14/5/2015
The Afternoon's Jazz and Blues Agenda
12.15pm - 12.30pm Jazz Summers and Jess Tucker
Guitars and vocals from SE Cornwall.
12.45 - 1.15pm Lost-e-Ukes Band
Lostwithiel's very own U3A ambassadors.
1.30pm - 1.45pm Susie Charles and Tony Taylor
Pupil and tutor with acoustic guitars.
2.00pm - 2.30pm Rachel Newton
Keyboard, guitar and sweet vocals.
2.45pm - 3.30pm Grand Auction with the Mayor
3.30pm - 4.30pm Jeff THE HORSE Horsey and Gareth Hedges
Two great blues men.
4.45pm - 5.25pm Goonzion Quartet
A great great jazz band.
5.35pm - end Jeff THE HORSE Horsey and Gareth Hedges
Simply blues at its best.
LOSTFEST 2015 GRAND AUCTION
The Grand Auction will take place at Jazz Cafe at Rafter Bar, The Centre on May 17th at 2.45pm on behalf of FLEET the Rapid Response Emergency Service equipment provider.
Norman Trebilcock MBE, Olympic flame carrier and recently retired chief organiser of FLEET and fresh from his recent success at the London Marathon will attend and say a few words of encouragement to dig deep!
Our guest auctioneer will be Her Worship Clr Mrs Pam Jarrett Mayor of Lostwithiel.
Sealed bids now being taken……just detail the item(s) and your bid in a sealed envelope with your contact details and drop it into Reception at the Centre, we will then ensure it will be included into the auction on your behalf.
GRAND AUCTION LOTS
A Family Ticket for the World Rugby Museum and Stadium Tour generously donated by Twickenham the Home of Rugby. Estimated value: £45 to £55
A signed cricket bat with its Certificate of Authenticity from the England v Sri Lanka ODI Series 2014 sponsored by Royal Insurance and generously donated by Lord's, the Home of Cricket. Estimated value: £100 - 150
A Romantic afternoon Tea for Two and generously donated by the Fowey Hall Hotel. Estimated value: £35 - £40
A copy of "Pirates! Pirates!" The Rise and Rise of a Cornish Rugby Club signed by the Club Director, Players and Coaches and generously donated by the finest club in Cornwall. Estimated value: £20 - £30
A case of Classic Haye Farm Cider and generously donated by Bill Cole of Haye Farm. Estimated value: £40 - £50
Unique one-off Lostwithiel Railway Station Poster of LosFest2015. Estimated value: £20-30
A collection of current Naval memorabilia including two commemorative historic booklets on RNAS Culdrose, 1947 - 2014, a CD entitled 'Exercise Deep Blue' and various posters and stickers generously donated by RNAS Culdrose. Estimated value: £15 - £20