La Vie en Rose
We have wanted to bring La Vie en Rose to Cornwall for a number of years and now all our attempts have come to fruition. What a great band all the way from Exeter but it could just as easily have been Paris or that little island on the Seine!!!! See poster below for all the details.
The heartfelt wail of the blues; the sultry heat of the campfire; the crazy swirl of the bal musette, all fused together ​with virtuosity and passion in the melting pot of 1930's Paris: the result was gypsy jazz.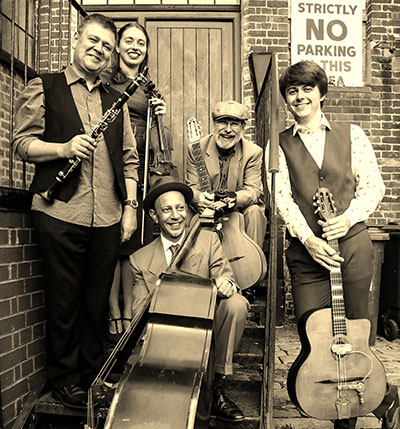 'LA VIE EN ROSE' play this exuberant, toe-tapping music with a swing and joie-de-vivre as fresh today ​as when Django Reinhardt and Stephane Grappelli first conjured it from the back streets of Pigalle.
These Exeter based musicians have wide-ranging individual backgrounds in classical music, traditional jazz, rock, blues, country, ragtime and roots, all drawn together by the shared pleasure of playing gypsy jazz and hot swing.
Performing to acclaim at larger festivals such as Dart Music Festival, Upton Jazz, Bude Jazz, Jazz Jurassica, for events like 'Exeter Jazz on the Quay' and Velo Vintage. At the huge Cosy Club in Bristol for their New Year's Eve festivities, and for three years running at The Royal Albert Hall's 'Verdi Italian Kitchen' for their prestigious Valentine's Day event.
They have built a reputation for their mix of 'Hotclub' favourites, jazz standards, soulful ballads and Latin swing mixed with the occasional unexpected film theme or classical score! Toe-tapping rhythms and virtuoso melody lines combine in a performance with all the verve and joy that makes this music so irresistible.
"We loved having you - absolutely brilliant performance!" Jazz Jurassica
"A great performance. We hope to have you to play again soon!" Tiverton Community Arts Theatre
"…this is a rare treat. This lot are magnificent." Danny Gladstone, 'The Glad', London SE1.